Last summer I built a set of maps for the OpenNet Initiative showing where five of the most popular social media sites — Facebook, Flickr, Orkut, Twitter and YouTube — are censored around the world.
A lot has happened in the last year, both social media censorship-wise and in the world of online mapping. I've taken this opportunity to update the map data and to give the maps themselves a bit of a makeover. Voila: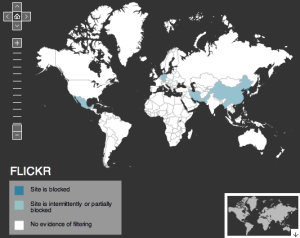 These are accurate to the best of my and ONI's knowledge — the data comes from testing we conducted in 2008-2009 as well as from censorship reporting site Herdict and media reports. If you have trouble accessing one of these sites, please let us know so we can update accordingly.
For more information on the methodology and reasoning behind these maps, and for all the fun features (clicking! zooming! changing from Facebook to Twitter and back again!), check out the social media filtering map on the ONI site.