Today we officially launched the second phase of the Technology for Transparency Network, a Rising Voices project that documents and maps projects around the world that use online technology to promote transparency and accountability.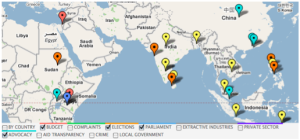 During the first phase, which ran from January to May of this year, we mapped 37 case studies from Central & Eastern Europe, China, Latin America, South Asia, Southeast Asia and anglophone Sub-Saharan Africa. Between now and September, we'll be nearly doubling that number and expanding our focus to include projects from the Middle East & North Africa, the former Soviet Union and francophone Africa.
I am psyched to be co-heading the project along with the formidable and talented Renata Avila. We're thrilled to be working with an amazing team of researchers and advisors, including our new editorial advisor Hzel Feigenblatt. Hazel is the Media Projects Director at Global Integrity and will be working with us to make sure we interview the most innovative and exciting projects in this space.
If you have an idea for a case study, let us know! We're currently taking suggestions in English, Spanish and Portuguese. You can also subscribe to our RSS feed to get updates when we publish new case studies, follow us on Twitter (@techtransparent) and become a fan on Facebook.