In the spirit of making things this year, I bought a sewing machine. My ultimate goal is to make beautiful quilts like this and this and this, for wrapping myself in while reading books and for giving to friends and for handing down to future generations. I'm starting small, though: I made a potholder.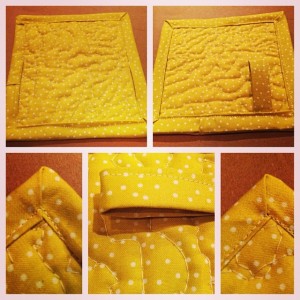 I looked up a bunch of tutorials online, ranging from the fancy matching set with rounded corners and double fold bias tape binding to the quick and dirty, who needs pins?, all machine-sewn version. Ultimately, I leaned toward the quick & dirty.
This may have already been obvious from the photos above.
It's not perfect—I attempted to free quilt using my new machine, just for kicks, and didn't end up liking the look of it (though maybe actually having a design in mind, rather than going at it willy-nilly, would have helped). The binding is wonky. The hanging loop was an afterthought, and as a result is oddly placed. HOWEVER. I'm proud of my awkward first attempt (which Dan already used this morning to pick up a hot cast iron skillet—it's functional, even if it's ugly!), and I'm not yet totally scared off from the idea of someday making something someone else will actually admire. Success!