I tracked every book I read in 2014, fairly certain I would reach my goal of 100 without too much trouble. I made it to 94, which is both galling and inspiring (how much reading will I be able to do this year, now that I'm not planning a wedding in three parts?).
At the end of May I did a midpoint check-in and found that I had already fallen behind. I made an effort to catch up in June and July, but in August I dropped back again. Despite what I consider to be a truly valiant effort in November (yay, vacation reading), I never quite managed to catch up: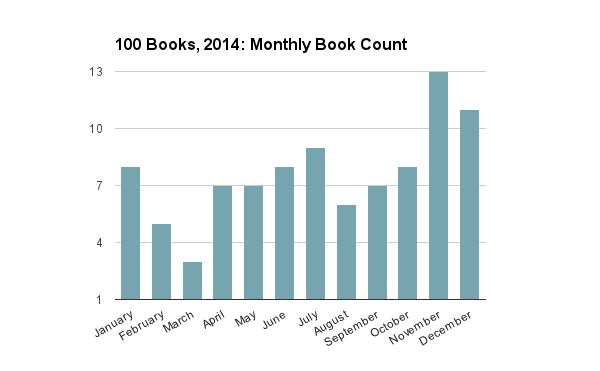 November also saw my greatest page count, clocking in at just over 6200 pages. Coincidentally, it was also the month I reread all of Harry Potter.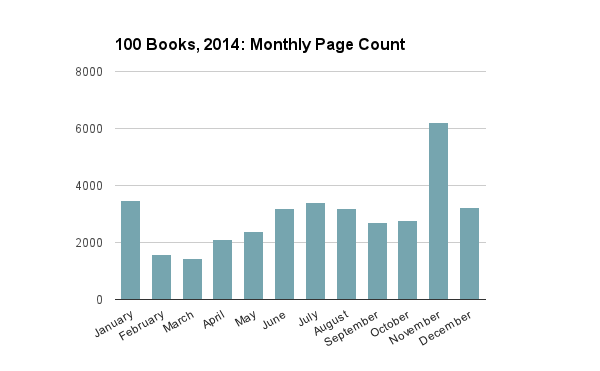 Fiction and memoir continue to be my favorites genres, though despite my pretensions to "literary fiction" earlier this year, around a fifth of the books I read this year fell into the young adult camp. See: Harry Potter, obviously, though also Charlie N. Holmberg's wonderfully creative The Paper Magician and The Glass Magician.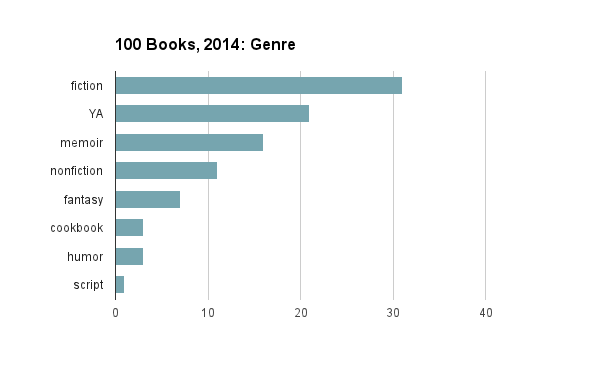 Also despite earlier pretensions: my attempts at reading books by a diverse set of authors failed pretty miserably. While more than half of the authors whose works I read were women, only ten percent were people of color, and eight percent people from the global south.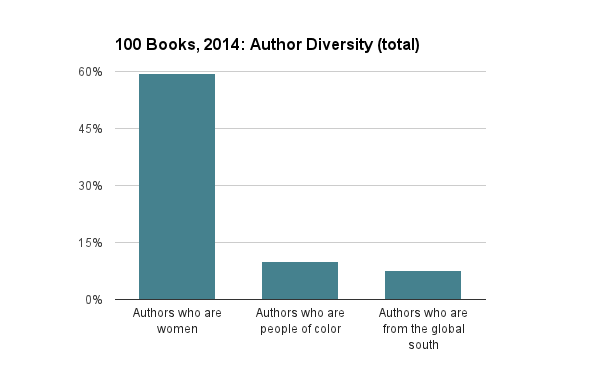 I'm disappointed by this, particularly given the many wonderful recommendations I received after I put out a call for help. Looking back at the reading list I made after that post, I'm realizing I only read half the books on the list.
I guess it's a good thing, then, that I'm giving this another try in 2015. So far I'm one book in—David Mitchell's Ghostwritten, which I loved—with Pico Iyer's Falling off the Map: Some Lonely Places of the World on deck. I'm tracking metadata here and a simple list here, in case you'd like to follow along.