I ran across this hilarious owl-print flannel earlier this spring and fell in love with how half of the owls look exceedingly skeptical of life while the other half look startled and…kind of dopey?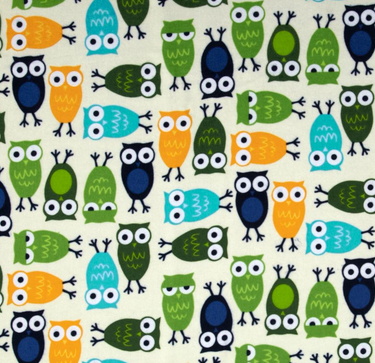 When I added it to my cart with a bunch of Kona solids and one grassy print, I swear I had a concrete plan in mind, but then the fabric arrived and got shoved under the craft table, still in its box, while I worked on other things, and when I opened up I had completely forgotten what I was going to make with it.
Luckily a little Googling turned up this "mod chevron" pattern by Rashida Coleman-Hale in Generation Q Magazine, which was perfect for using the random assortment of quarter-yard bits I had for some reason decided I needed: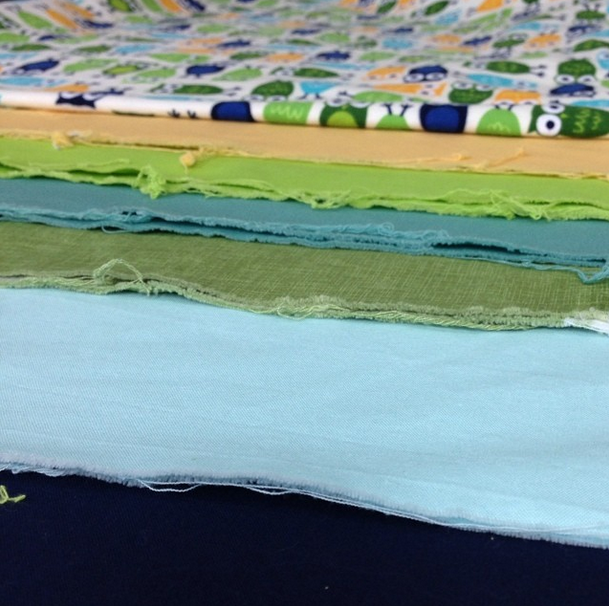 The pattern has you cut out a bunch of squares, sew them together with twin lines across the diagonal, cut them in half (between the sewn lines), then press them open so that you end up with a bunch of half-square triangles. When you line them up, you get chevrons. It's quite lovely: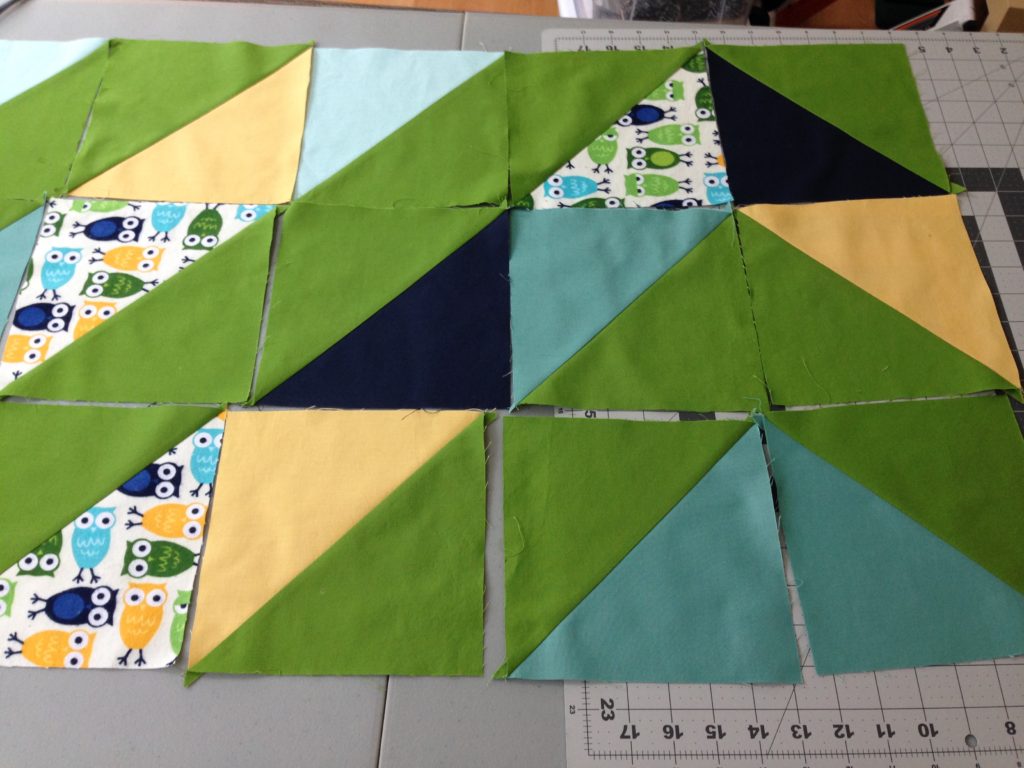 After you cut your pieces apart, you're supposed to trim everything down to end up with neat 6.5″ squares. I tried this on one square and immediately abandoned the idea. Word to the wise: the pattern still works sans trimming, though the backing will be a tight fit. Save yourself the trouble.
I spent one afternoon washing, ironing, and cutting; one evening ("large project" craft night at work) sewing the squares together and cutting them apart; one morning assembling the top; and one Saturday quilting, making bias tape, and binding. All in all, this came together quite fast: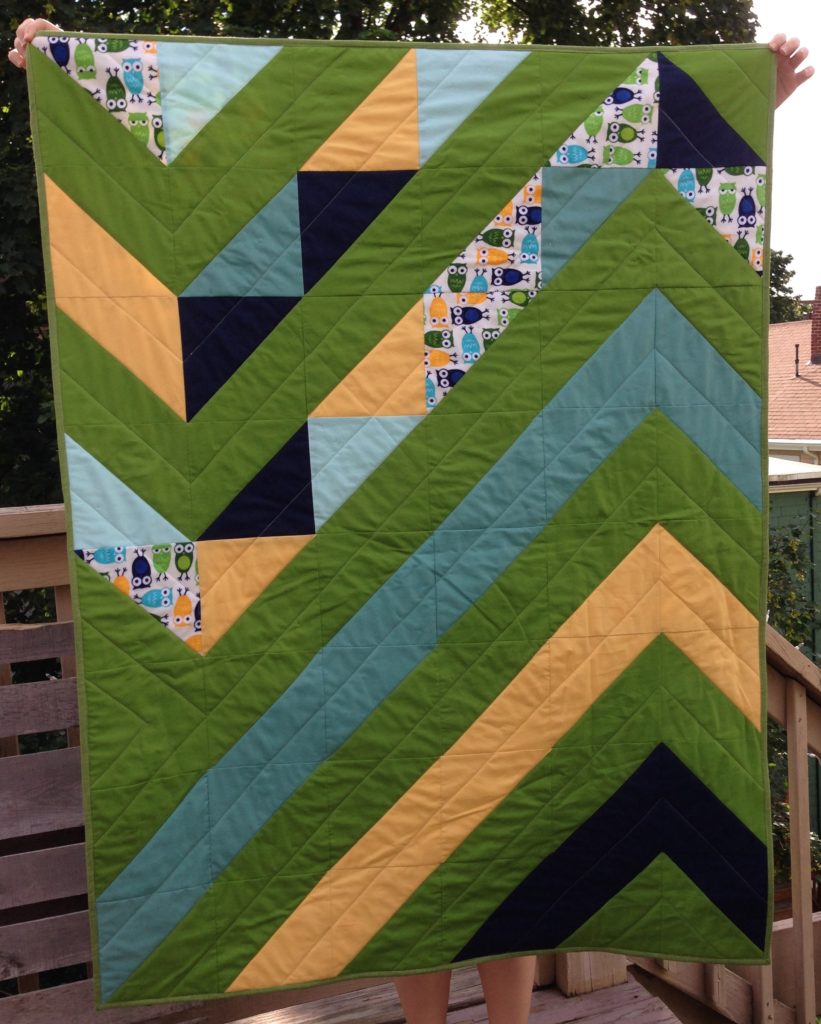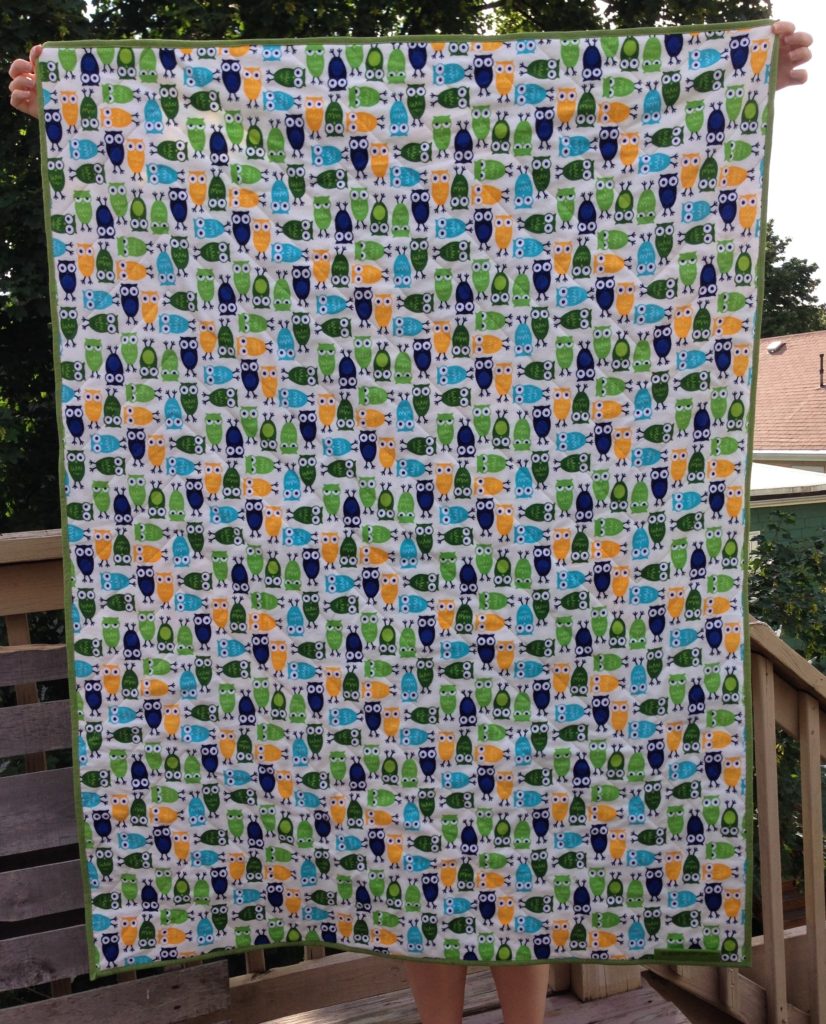 ---
A Parliament of Owls
FINISHED SIZE: 40″ by 54″
PATTERN: "Mod Chevron Baby Quilt" by Rashida Coleman-Hale in Generation Q Magazine
FABRIC: Urban Zoologie Flannel Owls in Marine for the back and a few triangles on the front; Quilter's Linen Print in Leaf for the binding; Kona cotton solids in sage (the darker turquoise), aqua (the lighter blue), navy, sunflower, and grass green for the front. Note: the second photo above shows Kona cotton in chartreuse, which I didn't end up using.
BATTING: a little less than one fourth of a package of Warm & Natural Cotton Batting in king size
NOTIONS: Pieced and quilted using Aurifil in Light Beige.