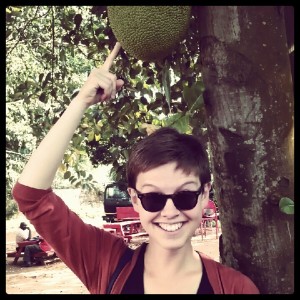 I've lived in a concrete cube sans running water in rural Uganda, on top of a French restaurant called La Fontaine that was neither in France nor near a fountain, in a five-bedroom house in Lawrence, Kansas known for activism and Apples to Apples tournaments, and in an apartment in St. Petersburg with a marble bidet. I can exchange pleasantries in eight languages but lay claim only to passable shaky Russian and laughable Acholi.
I've worked as a freelance web designer for projects in the United States and Africa, an educational tour guide, and a math teacher. As a teenager I manned a French fry station at a fast food behemoth for three months, something statistics say one out of every five Americans does at some point in his or her life. If that's true, I saved four of my countrypeople.
Mikhail Gorbachev once told me I look like his granddaughter.
Interested in what I do now? Check out my work.